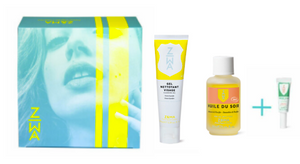 Our gift pack offers you the Best Seller duo, beauty essentials you'll be soon obsessed with!
The gift bag includes:
1 x Cleansing Gel

1 x Night Oil
Cleansing Gel - 3,38 us. fl. oz./100ml
Every day, the Face Cleansing Gel cleans your skin while softening. Enriched with purifying essential oils, its light texture removes all impurities.
Thanks to the cocktail of : Aloe Vera*, Wild Pansy* and Burdock* Extracts, your skin is fresh, rejuvenated and purified. 


Night Oil - 1 us. fl. oz./30ml
The Night Oil is your evening best ally. You will apply it just before heading for bed.
Thanks to its 13 natural active ingredients, the Night Oil is an invigorating treatment that nourishes, purifies and lights up the skin. It rapidly penetrates the skin without leaving your skin feeling oily, and it will leave a refreshing and soothing scent on your skin. You will wake up with a bright face.
Mini Day Cream - 0,2 us. fl. oz./6ml - for free
Enriched with Aloe Vera, Sunflower Oil and Hyaluronic Acid, the Day Cream has the amazing ability to hydrate and to soften. But it doesn't stop there… Thanks to some Vitamin E of natural origin, some Alfalfa and Artichoke extracts, it also protects your skin from external aggressions. In just one step, your complexion appears more radiant.