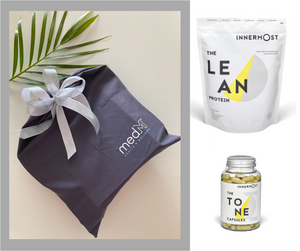 Our weight loss gift bag ! Your loved one has set himself or herself up for a challenge and has a goal in mind to reach his or her ideal weight - a little help would go a long way ! 
The combo in this bag is formulated to increase fat burning and really build up the metabolism for sustainable weight loss.
The gift bag includes: 
1 x LEAN innermost protein powder the post work out 
Whey protein powder for weight-loss. A laudable blend of 7 ingredients formulated to encourage healthy fat-loss and support lean muscle development.
1x THE TONE Capsules to be taken everyday:
Daily nootropic complex for sustainable fat-loss. A sharp blend of 9 ingredients formulated to raise metabolism and support sustainable fat-loss.
No artificial colours or fillers. Forget fad diets, they don't work. Step this way instead. 
Take 2 capsules each morning and 2 capsules each afternoon with water.