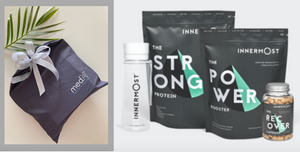 All the products from our Muscle range in a convenient bundle along with an Innermost shaker bottle. Use dropdown below to choose your protein flavour.
The gift bag includes:
1 x Strong Protein 

1 x Recover Capsules

1x Power Booster
1 x Shaker
The Strong Protein: A must-have post-workout refuel to be taken ideally within 45 minutes of exercise or as a nutritious drink to help meet your daily nutrient needs. Best served cold. Directions: Add up to 40g (4 scoops) to 250-350ml of water or milk and shake. Adjust amount of liquid for your desired level of sweetness and thickness. Can also be used to make smoothies and baked into healthy snacks.
The Power Booster: - Vegan - Creatine Monohydrate (5g): One of the most researched sport supplements on the market. Recommended for athletes and recreational gym goers undertaking high-intensity exercise. Creatine is stored within muscle and plays a crucial role in the production of energy during high- intensity exercise such as sprinting or weightlifting.To be taken during your day, once a day. Use continuously for up to 8 weeks before discontinuing for 1 week and then repeating. Directions: Mix 5g (1 rounded teaspoon) with around 100ml water or juice in your Innermost shaker bottle, or simply add 5g to your pre or post-workout protein shake.
The Recover Capsules: - Vegan - Give fresh life or strength to.Daily nootropic complex for faster recovery. A mighty blend of 6 ingredients formulated to support recovery, hormone activity and promote energy. Contains no artificial colours or fillers. Perfect for when you need to get back to doing what you do best pronto.Take 2 capsules a day with water.