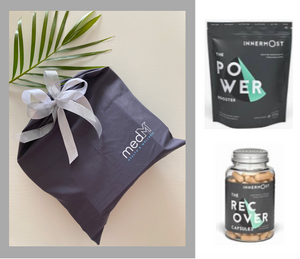 Our gift pack 
offers you the Strength that you are looking for with this perfect combination:
The gift bag includes:
1 x Power Booster

1 x Recover Capsules
 1 x POWER Booster- Vegan - Authority and control.
100% pure creatine monohydrate. Just 1 powerful ingredient formulated to boost power and endurance. Perfect for high-intensity training. Take your relationship with working-out to the next level. Things just got serious.
1 x RECOVER Capsules - Vegan - Give fresh life or strength to.
Daily nootropic complex for faster recovery. A mighty blend of 6 ingredients formulated to support recovery, hormone activity and promote energy. Contains no artificial colours or fillers. Perfect for when you need to get back to doing what you do best pronto.