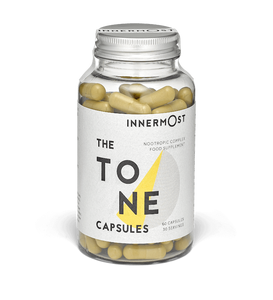 Finesse and tone.
Forget fad diets, they don't work. These nootropic capsules contain research-backed ingredients that gently raise your metabolism, reduce cravings and promote sustainable fat-loss. People keep telling us that they love it. You will too..
 PRODUCT HIGHLIGHTS:
> Improve tone and definition
> Raise metabolim naturally
> Nootropics and adaptogens
HOW & WHEN TO USE IT:
Take 2 capsules daily with your breakfast or lunch.
Works Well With: 
The Lean Protein to encourage effective fat-loss and support lean muscle development. 
IT'S WHAT'S INSIDE THAT MATTERS..
 Natural ingredients, nootropics and adaptogens, with clearly communicated benefits. Combined to help you think, feel, and perform your best.
Per 2 Capsules:
Matcha Green Tea (500mg): Matcha green tea is a specifically concentrated green tea powder, bursting with flavonoids called catechins. Its health benefits span the whole spectrum from fat loss, to protection against heart disease, improved skin, energy and focus.
Yerba Mate (300mg) Dried leaves of an evergreen holly tree native to South America. An incredibly high antioxidant content and has been shown to have possible effects in the area of weight management, which could be due to it helping delay intestinal absorption of dietary fat.
Vitamin C (250mg, 313%*): An important vitamin often used to support the immune system, it also works to stabilise green tea compounds to enhance their absorption and maximise their benefits.
Alpha Lipoic Acid (150mg): Essential for aerobic energy metabolism, also acting as a powerful antioxidant, breaking down harmful free-radicals. It's also thought to help the body utilise stored fat, which can aid high-intensity exercise performance and help with weight management.
Capsicum (75mg): A compound with bioactive properties found in chilli peppers. Regular consumption can reduce abdominal fat and appetite. Evidence suggests that it could play a beneficial role as part of a weight management programme.
L-Theanine (75mg): A relaxing but non-sedative amino acid that has been shown to help reduce cortisol levels in the body, which is caused by stress and can lead to weight gain.
Vitamin B6 (0.7mg, 50%*)and Vitamin B12 (1.25µg, 50%*): For the reduction of tiredness and fatigue and normal energy-yielding metabolism. These also play a role in maintaining hair and skin health, and a regulated nervous system.
*%NRV (Nutrient Reference Values) are guidelines on daily amounts of vitamins and minerals to be consumed to maintain a healthy diet.
Allergens: None.